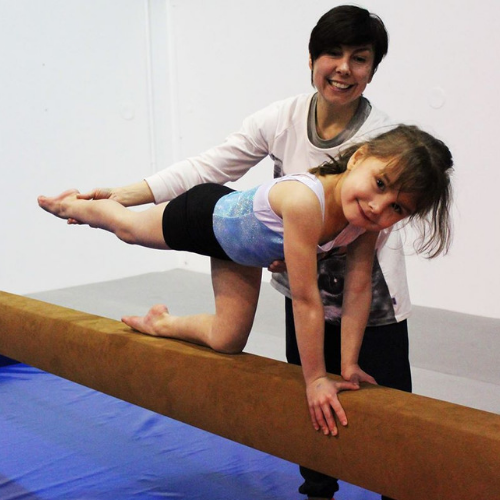 Physical activity is vital for a child's development and lays the foundation for a healthy and active life. The ability to be physically active influences social wellbeing, mental health and is linked to children's school performance.

-It is a form of exercise that is based on the philosophy of Fun with Gymnastics, Fitness through Gymnastics and Fundamental Movement Patterns in Gymnastics that leads to long term athletic development in children.
-It influences social wellbeing, mental health and is linked to children's school performance.
-Whether your child continues with gymnastics or wishes to specialise in another sport their experience at recreational gymnastics will provide them with an excellent foundation for progression.

We offer different programs for ages 1 to 12 years of all abilities based on age and skill progression.
Our Characteristic Features:

-New Facility: Our facility and equipment are new, clean, safe, colourful and fun.
-Small Groups: We cater to small groups. Our coach-student ratio is usually 1: 8.
-Limited noise and Distractions: We provide personalised attention with limited noise and distractions during sessions. There are generally one or two groups working at a given time.
-Well-structured programs: Our recreational gymnastics programs are well-structured in fun and creative ways based on age and skill progression.
-Self-paced instruction: Each child is encouraged and challenged to learn skills at their own pace regardless of how quickly others are doing, with sufficient practice and guidance from our experienced and passionate coaches
-Consistency: We aim for children to work with the same coach each session so that they can develop a relationship with the coach enabling them to increase their confidence and willingness to try new skills.
-Self-esteem: All our activities focus on instilling confidence in children through achievement, gives them mental strength, and a strong sense of self-esteem – something we are passionate about at Ultimate Transformations.

Our Structured Gymnastics Programs Promote:
● Physical skills: coordination, balance, flexibility and strength from head to toe.
● Social skills: communication, sharing, taking turns and cooperation.
● Attentional skills: sustaining focus, listening and following instructions and sequencing of movements.
● Emotional skills: confidence, self-belief, patience, respect and motivation.

We also organise specialised classes for
Seniors: Gymnastics for Seniors provides a fun, relaxed approach to achieving better physical and mental health - low impact, flexibility and mobility focus. It also aims at injury prevention, recovery and rehabilitation.
Ladies: Gym Fit is an awesome strength and conditioning class to stay fit with a variety of low impact exercises focusing on cardio, core, upper and lower body strength and flexibility.
Special needs: Customised, individualised programs can be designed by our highly qualified and competition experienced coaches for special requirements.